Aquatic plants are species that perpetuate their life cycle in still or flowing water, or on inundated or non-inundated hydric soils. Aquatic angiosperms inhabit oceans, lakes, rivers, end wetlands. The transition to an aquatic life has been achieved by only 2% of the approximately 350,000 angiosperm species (Cook 1990). Bangladesh is unique in possessing one of the largest deltaic plains of the world with extensive inland depressions.Out of total area of fifty six thousand square miles of the country, almost one-eights is occupied by littoral forests in the south, while the rest is comprised of more than 48 thousand square miles of flood plains excepting the hills in the north-east and south-east. These low lying plains are cris-crossed by innumerable rivers and creeks. The vegetation of haors, beels, lakes and ponds are rich in aquatic flora and constitute very important resources of food and medicine for the rural population.The importance of these water flora in agriculture, pisciculture and as a source of food and medicine has not received much attention. In 1987, late professor Dr. M. Salar Khan and Dr. Mahbuba Halim first recorded 123 aquatic angiosperms under 67 genera distributed in 35 families.
Best safe and secure cloud storage with password protection
Get Envato Elements, Prime Video, Hotstar and Netflix For Free
Best Money Earning Website 100$ Day
#1 Top ranking article submission website


Classification of Aquatic angiosperms
Emergent
Floating Leaf
Submerged
Free Floating           
Emergent
An emergent plant is one that grows in water but which pierces the surface so that it is partially in air. Collectively, such plants are emergent vegetation. This habit may have developed because the leaves can photosynthesize more efficiently above the shade of cloudy water and competition from submerged plants but often, the main aerial feature is the flower and the related reproductive process. These may be found growing in fens but usually less well owing to competition from other plants. Some species, such as purple loosestrife, may grow in water as emergent plants but they are capable of flourishing in fens or simply in damp ground. Examples: Phragmites karka, Cyperus papyrus, Typha  angustata, Butomus junceus, Zizania sp.
 

Floating leaved
Floating-leaved angiosperms have root systems attached to the substrate or bottom of the body of water and with leaves that float on the water surface. Examples: Nymphaea pubescens, N. nouchali,Nelumbo nucifera, Victoria amazanica, Vallisneria spiralis, Nymphoides indicum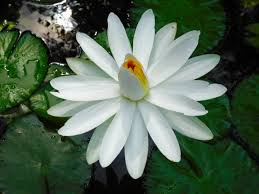 Submerged
Submerged angiosperms completely grow underwater with root attached to the substrate. Examples: Ceratophyllum submersum, Hydrilla verticillata, Myriophyllum spicatum, Ceratophyllum demersum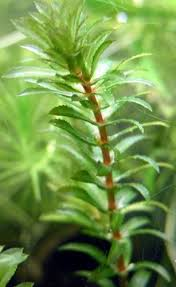 Hydrilla verticillata
Free-floating
Free-floating angiosperms are aquatic plants that are found suspended on water surface with their root not attached to substrate or sediment or bottom of water body.They are easily blown by air and provide breeding ground for mosquito.Examples: Pistia stratiotes,               Enhydra fluctuans, Eichhornia crassipes, Lemna purpusila, Wolffia microscopica etc.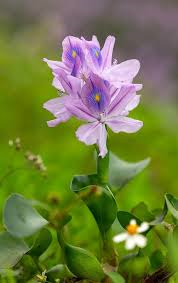 Why Important?
Food crops: Some aquatic plants are used by humans as a food source.Examples: Wild rice (Zizania sp.), water caltrop (Trapa natans),     Chinese water chestnut (Eleocharis dulcis), lotus (Nelumbo nucifera), water spinach (Ipomoea aquatica), watercress (Rorippa nasturtium-aquaticum).
Watershed health indicators: Lack of aquatic plants indicate water quality problems and changes in the ecological status of the water   body. On the other hand, overly high nutrient levels may create an overabundance of aquatic macrophytes, which may in turn interfere with lake processing. Macrophyte levels are easy to sample, do not require laboratory analysis, and are easily used for calculating simple abundance metrics
Potential sources of therapeutic agents: Phytochemical and pharmacological researches suggest that freshwater macrophytes, such as Nelumbo nucifera, Ipomoea aquatica and Ludwigia adscendens are potential sources of anticancer and antioxidative natural products. Hot water extracts of the stem and root of Ludwigia adscendens, and the fruit, leaf and stem of Monochoria hastata were found to have lipoxynase inhibitory activity. Hot water extract prepared from the leaf of Ludwigia adscendens exhibits alpha-glucosidase inhibitory activity.
    Economic importance of some important aquatic plants:
No.
Name
Local name
Family
Uses
1
Achyranthes aquatica
Jalaj apang
Amaranthaceae
Young stem and leaves are cooked and eaten
2
Aeschynomene aspera
Shola
Fabaceae
It is used in making sun hats, toys, artificial flowers and models.

The pith is used for embedding plant materials for cutting free

hand sections in the laboratory

It is also used in the manufacture of swimming jackets and life-boats

3
Alternanthera philoxeroides
Malncho
Amaranthaceae
Cooked and taken as a green vegetable
4
Ceratophyllum demersum
Jhanji
Ceratophyllaceae
The plant is of value as a protective cover for fresh laid spawn and

young fish fry.

Also grown in aquarium

5
Cyperus corymbosus
Golamethi
Cyperaceae
The stems are used for making fine mats
6
Eichhornia crassipes
Pontederiaceae
The plant is used as manure and fodder.
7
Enhydra flucutans
Helencha
Asteraceae
The whole plant is eaten as a pot herb.

The plant also possesses antibacterial properties

8
Euryale ferox
Makhna
Nymphaeaceae
The seeds are eaten raw or roasted.

The seed flour is easily digestible and nutritious

9
Hydrolea zeylanica
Kasschara
Hydrophyllaceae
The plant is often eaten by cattle.

The leaves are considered to possess antiseptic

properties, and are used as a poultice for obstinate ulcers

10
Hygrophila auriculata
Takmakh, Kulekhara
Acanthaceae
The plant is cooling and diuretic in cases of hepatic obstruction,

dropsy, rheumatism, and diseases of genitor-urinary tracts.

The seeds are demulcent, diuretic and possibly tonic

11
Ipomoea aquatica
Kolmilata
Convolvulaceae
The leaves and young shoots are eaten as vegetable
12
Limnocharis flava
—
Limnocharitaceae
It is cultivated for food in India and southeast Asia.

The leaves are eaten as an alternative to spinach or used as

fodder for pigs.

13
Limnophila indica
Karpur
Scrophulariaceae
It is considered as an antiseptic and made into a liniment with

coconut oil to be used in elephantiasis. In pestilent fever,

the juice of the plant is rubbed over the body of the patient.

It is also used in dysentery.

14
Monochoria vaginalis
Nukha, Sarkachu
Pontederiaceae
In Malaysia, the entire plant is eaten as vegetable and

the juice of leaves and roots is used for medicinal purposes.

15
Nelumbo nucifera
Poddo
Nymphaeaceae
The showy flowers are used for decorative and religious purposes,

and are considered sacred by the Hindus. The pedicels and petals are

recommended as

a cardiac tonic, diuretic and in fever. The seeds are eaten raw and also

form a collong balm in skin diseases. They are also given in diarrhea.

The powdered rhizome is prescribed for piles, and its paste locally for

ring-worm.

16
Nymphaea pubescens
Sada shapla
Nymphaeaceae
The rhizome and pedicels are eaten raw. The pedicels are also used as

vegetable.

The seeds which are also edible are made into puffed grains by frying

the dried seeds previously soaked in water on hot clay pans.

The puffed seeds are eaten as such or prepared into home made

confectionery.

17
Nymphoides indicum
Chandmala
Menyanthaceae
The plant is used as a substitute for chiretta (Swertia chirata) in fever

and jaundice.

18
Trapa bispinosa
Singra, Paniphal
Trapaceae
The nut is eaten either raw or cooked.
19
Typha angustata
Hogla
Typhaceae
The leaves are used for thatching purposes. Mats and screens are

also made of the leaves. A yellow cake called "Bur" is made of

the flowers and these cakes are much eaten by all classes of

inhabitants in Sind, and also in southern districts of Bangladesh

20
Wolffia microscopica
Khudipana
 Lemnaceae
It has a clearing and purifying action on foul water without being

conductive to the growth of other floating water plants. They are

favourite food of fishs and are therefore beneficial in pisciculture

especially when the fronds are young.
---
This article is completely based on the lecture sheet provided by Dr. Md Oliur Rahman, Professor, Department of Botany, University of Dhaka.
Some pictures and information have been added by the author. Any mistake, error, misinformation and other related things found in this article is only authors to blame