What do you picture when the land of midnight sun, Norway crosses your mind? It must be white snowy terrain, crystal-like blue glaciers, magical dancing aurora, astounding fjords, wild polar bears, scenic landscapes, intriguing cultural heritage, and all the mind-boggling aspects.
But little do we know, this land is accommodating a treasure of immeasurable worth, world's most precious collection of seeds on its faraway island Svalbard; known as the Svalbard Global Seed Vault aka 'Doomsday' Vault, which is the largest seed vault in the world.
Seed-fortress on the northernmost point of the earth? Yes!
This seed vault is located on the island of Spitsbergen, in the remote arctic Svalbard archipelago, Norway. It's the northernmost zone one can land via regular commercial flight.
This remote site was chosen premeditatedly based on its steady geology and geographical position and the climate being inordinately cold. In addition, the tectonic plate under Svalbard is nearly seismically inactive along with an isolated geopolitical locus which ensures the seed vault's invulnerability.
Framework of the vault
On the mystic island of Spitsbergen, the seed vault protrudes out of the permafrost of exalted Platåberget mountain. Standing like a monolith, the vault's quadrangular entrance is illuminated spectacularly. The vault was designed by Norwegian architect Peter W. Søderman.
The irradiated fiber optic art installations on the gateway leads to long cylindrical tunnel, more than 100 meters into the mountain. The tunnel terminates in a chamber, which commences 3 separate vault rooms, among which, only vault 2 aka the middle one is being used. Inside the vault, roof-touching shelves are standing upright, containing boxes full of diverse seeds that traveled from tropical to the farthest corner of the earth. They may be of little material worth but possess the potential of saving the earth from any possible irrevocable crop diversity loss.
How does it work?
1,194,94 seed samples of 5,974 species are stocked in the frigid cold vaults, where temperature is cooled to -18°Celsius, and low humidity are maintained. This freezing temperature is a prerequisite to retain seed viability. Airtight metal bags of aluminum with specialized 3-layered packaging are used to store dried seeds.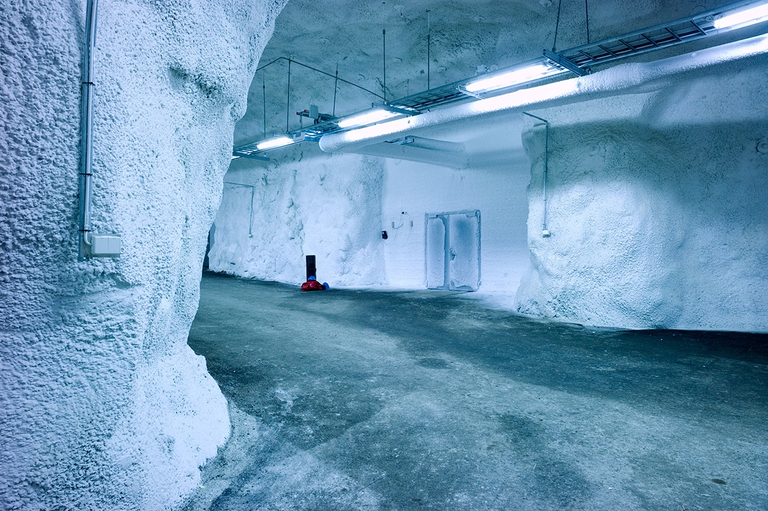 The vault is curved inside mountain permafrost because it's considered failsafe, if any adversity dawns upon and there's a power failure, permafrost's natural temperature will safeguard the seeds. However, as the expeditious global warming is marching onward, seed vault faced a recent breach in 2017. The icy permafrost melted due to temperature rise and it inundated the entrance, only fortunately it froze into a glacier and couldn't touch the vault nor the seeds.
Wreckage of war and first withdrawal of seeds
Solemn significance of the seed vault was first direly seen when Syria had to withdraw its deposited seeds in 2015. On that very year, there was an attack on Aleppo (a city in Syria) during the Syrian civil war, and the entire seed collection of ICARDA was annihilated.
However, fortunately, almost 118,400 of 148,000 seeds had been replicated and transferred to Svalbard. Those withdrawn seeds were recuperated and reconstructed into new collections in Lebanon and Morocco. This type of phenomenon is indeed disheartening and exasperating but at the same time apparent attestation of the importance of the seed vault.
Accessibility and Regulations for protection
Svalbard seed vault is considered one of the most protected and restricted places on earth. Without prior authorization, visitors aren't permitted, even no on-site employees are employed full time. Nevertheless, NordGen (Nordic Genetic Resource Center) deploys workforce when new deposit arrives, besides, Stasbygg (Norwegian Directorate of Public Construction and Property) is in charge of maintaining and monitoring the seed vault.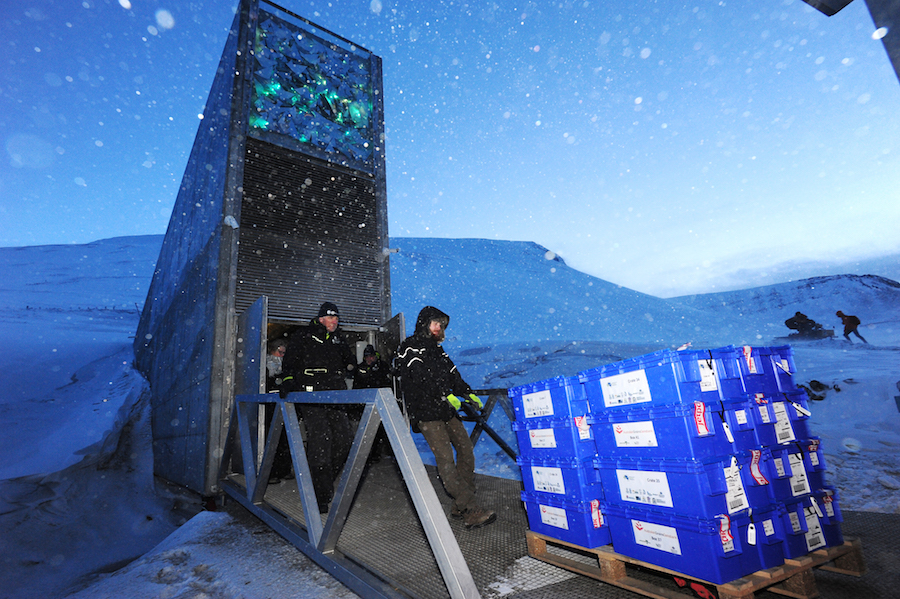 The depositors are the sole owners of the seeds which are reserved under "black box condition" and can withdraw them anytime. Storage of genetically modified seeds is strictly prohibited by law. Although, storing seeds is free of cost but depositors must agree to allow their seeds to be used for scientific research and plant breeding, additionally, contributors have to ensure that their deposits are duplicated elsewhere beside this vault, and this is a secondary backup.

Since 1990s earth has lost almost 75% of plant genetic diversity and this loss is irremediable. It's important to render a safe haven for the remaining plants, more specifically, their seeds, as our future food security depends on it.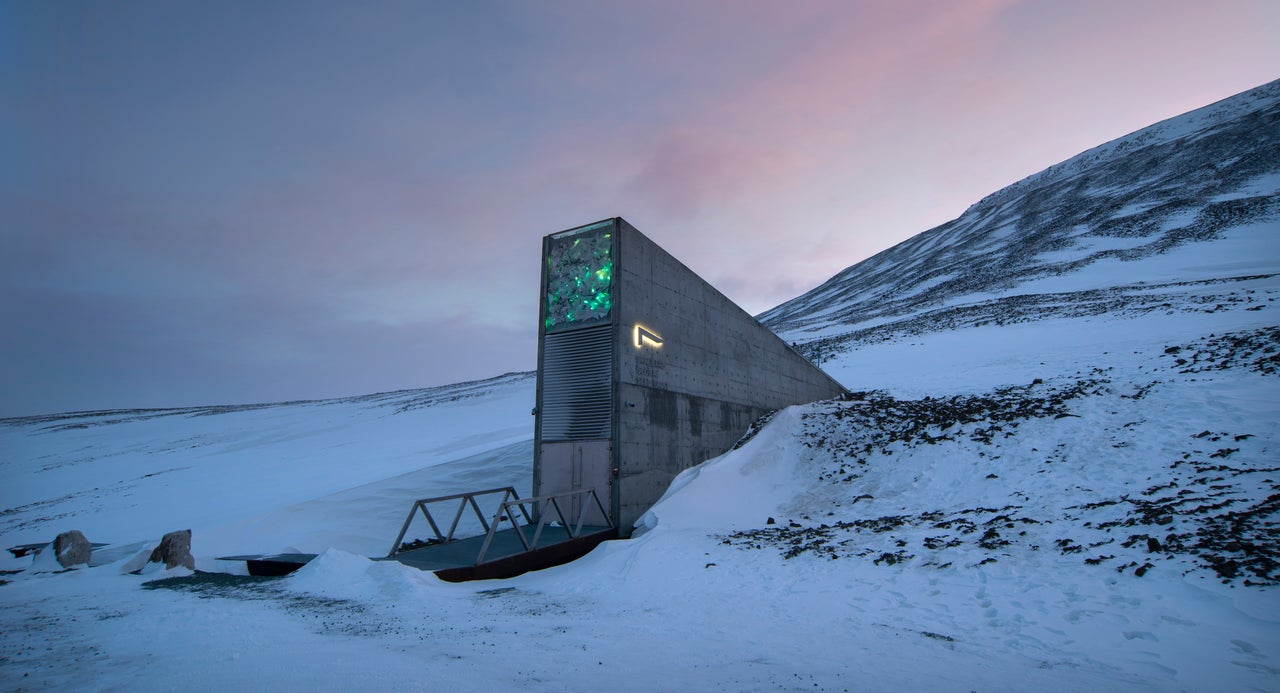 If by worse luck, any catastrophe really does occur to wipe out our crops, (which is more likely to happen), we will be having a savior to bring them back to the earth. Svalbard seed vault, being the largest and most efficient one of its kind is a pioneer in this case, housing 930000 crop variety, protecting world's one of the most valuable resources from wrath of war and nature, uncertainty and possible demolitions.
---
 References