Though not much fossil evidence is available, studies indicate that extensive forest under tropical range existed in the tertiary period in parts of Bangladesh
Even now, in a small land area, Bangladesh hosts four major types of forests: (a) Hill forests (mixed-evergreen forest), (b) Sal forest (deciduous forest), (c) Mangrove forest (natural mangrove), and (d) Mangrove plantation. In this article, these Forest types will be discussed briefly .
Best safe and secure cloud storage with password protection
Get Envato Elements, Prime Video, Hotstar and Netflix For Free
Best Money Earning Website 100$ Day
#1 Top ranking article submission website
---
Distribution of forests in Bangladesh
Distribution of the major forests in Bangladesh is alike below: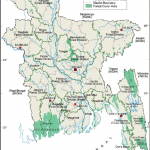 Tropical wet evergreen and semi-evergreen: Divisions of Chittagong and Sylhet Lawachara is a semi-evergreen forest.
Deciduous forest: Tangail, Gazipur, Mymensingh, Dinajpur, Rangpur, Rajshahi, Sherpur, Comilla.
Mangrove forest: Khulna, Satkhira, Bagerhat, Potuakhali, Chokoria sunderban (Cox's bazar).
Fresh water swamp forest: Ratargulforest (Sylhet).
Distribution of Deciduous forests in Bangladesh
Tangail, Gazipur, Mymensingh, Dinajpur, Rangpur, Rajshahi, Sherpur and Cumilla.
Some parts are under Protected area such as Bhawal National Park, Madhupur National Park, Singra Reserve forest, Dinajpur.
The Sal forests present in Bangladesh is evidently the remnant of the once dense forest continuous with the submontane deciduous formation of the Himalayan region.
The Madhupur Sal forest: Landscape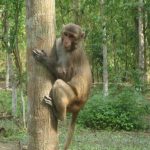 The Madhupur tract consists of several hundred separate blocks of trees interrupted by depressions cleared for cultivation of rice.
The elevated lands are locally known as Chala where trees are grown and the depressions are known as Baid where rice is cultivated.
The Soil properties and Vegetation of Madhupur Sal Forest is given as follows:
Soil properties 
The characteristics of the Soil of Madhupur Sal Forest is given below:
The soil is Red in color.
pH of the soil ranges between 4.77-5.6.
Humous content of this soil is low.
The quantity of  Organic C, Organic matter and Nitrogen(N)  in the Sal forest Soil are respectively about 0.72%, 1.42%, 0.29%.
Vegetation

 
The main dominating tree species(about 90%) of Madhupur Sal Forest is  Shorea robusta, Sal.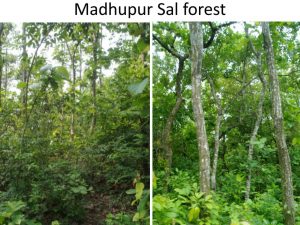 Other associated tree species are:
Holarrhena antidysenterica (Kurchi), Cassia fistula (Bandarlathi), Careya arborea (Kumbhi/Gadila), Albizia procera (Koroi), Dillenia pentagyna (Bon chalta), Butea monosperma (Palash), Terminalia sp., Bombax ceiba (Shimul) etc.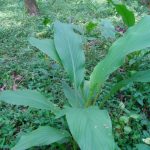 Undergrowth spp. are:
Zingiberaceae, Curcuma zeoderia, Bonada.
Climber spp. are:
Bauhinia vahlii Chechur),  Dioscorea sp. (Gachh alu), Smilax sp. (Kumari lata) etc.
Evergreen forest
An evergreen forest is a forest made up of evergreen trees. They occur across a wide range of climatic zones. Hill forests are in the mixed-evergreen forest category. Tree lists of these forests are as follows.
Plants of Hill forests
Hill Forest Located in hills and hilly areas, hill forests are composed of tropical, evergreen and semi-evergreen vegetations. This is one of the main forest types of Bangladesh.
Top storey of Hill forests is covered by the following tree species: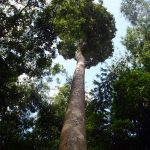 Garjan (Dipterocarpus sp.), Telsur (Hopea odorata), Chapalish (Artocarpus chaplasha), Chundul (Tetrameles nudiflora), Koroi (Albizia sp.) etc.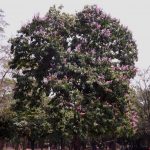 Likewise, the Lower storey includes species of followings:
Jarul (Lagerstroemia sp), Jam (Syzygium sp.), Jalpai (Elaeocarpus).
Mangrove forest
Mangroves are shrub or small tree communities that grow in coastal saline or brakish water.
They can tolerate saline habitat and therefore known as halophytes.
Mangrove forests only grow at tropical and subtropical latitudes near the equator because they cannot withstand freezing temperatures.
All of these trees grow in areas with low-oxygen soil.
They have special root systems like pneumatophores, prop or stilt roots and root buttresses.
Global Distribution of Mangrove forest  
Mangroves consist of trees, shrubs, and Nypa palm that grow in tropical and subtropical tidal zones—the largest concentration straddling the equator between 5ºN and 5ºS.
The world map below shows where mangrove forests are located.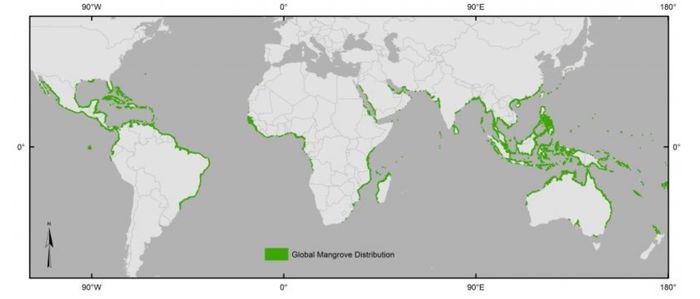 The Sundarbans mangrove forests
The Sundarbans mangrove forest of Bangladesh is one of the single largest tracts in the world.
Sundarbans mangrove forests are spread over both India and Bangladesh where of the total area, 60% is in Bangladesh and the rest 40% is in India.
The Bangladesh part of the Sundarbans is situated in the south west corner of the country i.e. the districts of Khulna, Bagerhat and Potuakhali.
The total area of the forest is 571,508 ha of which rivers, channels and other water courses consists of 169,908 ha and plant community occupy approx. 401,600 ha.
Its low lying areas are occupied by a networks of small creeks.
The Geography and Soil properties of Sundarbans Mangrove Forest are described below:
Geography
Sundarbans Mangrove forest is  located in the southwestern part of Bangladesh. It lies on the Ganges-Brahmaputra Delta at the point where it merges with the bay of bengal.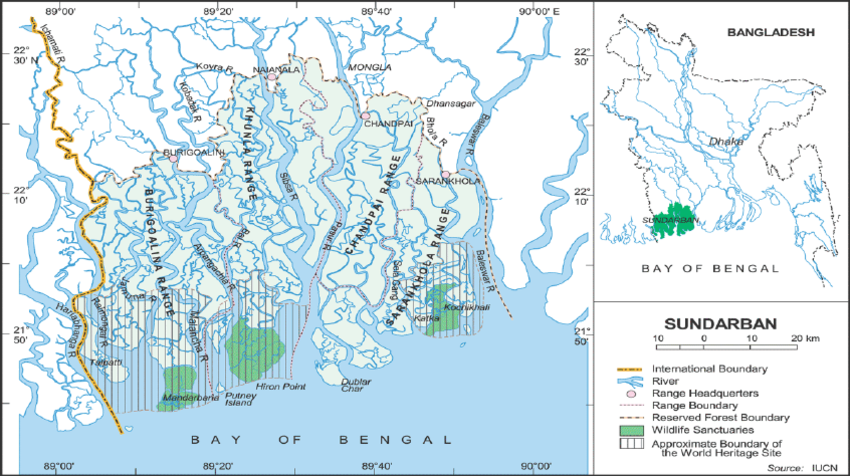 Soil properties
Soils of the Sundarbans mangrove forest differ from other inland soils in that they are subjected to the effects of salinity and waterlogging, which naturally affect the vegetation.
The pH, Organic Matter, Sodium(Na) contents and Seasonal Variation of the Ecological zones of this Forest are given in the table below: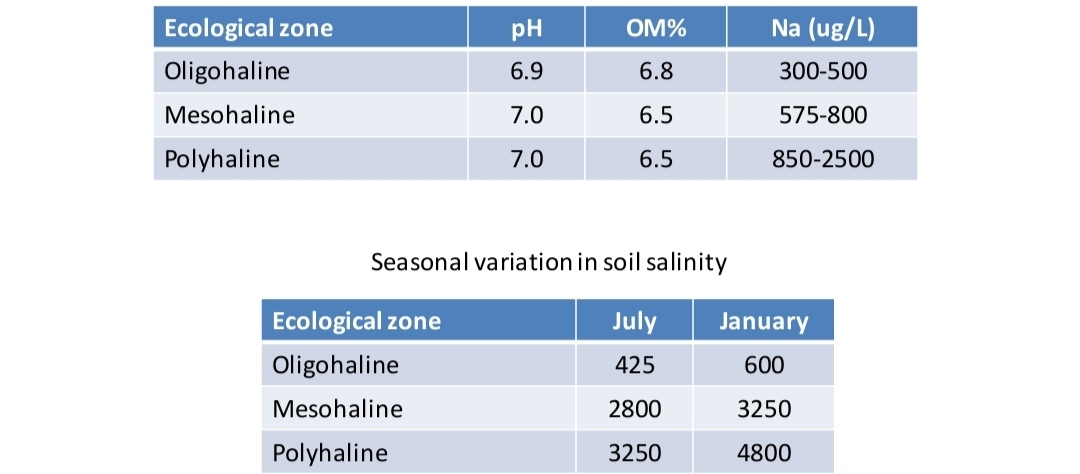 Vegetation
Margins of the rivers and channels are occupied by Nypa fruiticans, Acanthus ilicifolius, Phragmites karka and Porteresia coarctata.
The Vegetation of Sundarbans Mangrove Forest consists of three zones which is given in the table below: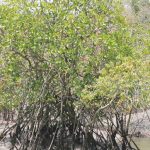 Trees of the Mangrove forest includes-
Sundri (Heritiera fomes), Keora (Sonneratia spp.), Baen (Avicinnia alba), Gewa (Excocearia agallocha),
Kankra(Bruguierasexangula), Goran (Ceriops decandra), Golpata (Nypa fruticans), Hetal (Phoenix paludosa), Hargoza (Acanthus ilicifolius), Bhola (Hibiscus tiliaceous) etc.
Freshwater Swamp forest
(Ratargul forest)
Ratargul Swamp Forest is the only swamp forest located in Bangladesh and one of the few freshwater swamp forests in the world. The forest is naturally conserved under the Department of Forestry, Government of Bangladesh.
Two layer of plants can be seen in this swamp forest. The upper layer consists of trees and the lower one consists of intense Schumannianthus dichotomus.
Some of the Trees, Shrubs and Herbs of this Swamp Forest are as follows:
Trees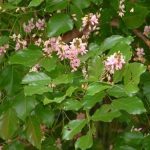 Pongamia pinnata (L.) Merr. (Koroch), Crataeva nurvala Buch.-Ham. (Borun), Barringtoni aacutangula (L.) Gaertn. (Hijol), Syzygium fruticosum (Roxb.) DC. (Tit jam), Lagerstroemia speciosa L. (Jarul), Trewia polycarpa Benth. Pitali, Streblus asper Lour. (Shaorah) etc.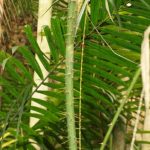 Shrubs
Gagnep. (Sitalpati), Calamus viminalis Willd. (Bet), Pothos scandens L. (Hatilata), Phyllanthus disticha (Chitki) etc.
Herb
Mikania cordata (Burm. f.) Rob. (Assamlata).
---
Reference:
Class Lecture of Dr. Mohammad Zabed Hossain, Professor, Department of Botany, University of Dhaka.
* Source of some images have not been given in the article. These images are collected from Dr. Mohammad Zaben Hossain's Lecture.