The branch Phycology has come into existence in 1753 when Carolus Linnaeus first discovered four genera namely Fucus, Conferra, Chara and Ulva. Exactly after 200 years in 1953, Prof. A. K. M. Nurul Islam started to work on algal taxonomy in the Department of Botany, University of Dhaka and devoted his life in the field of Phycology. Because of his tremendous contributions, he was awarded National Professor status in the February, 2006 which ended on 1st July 2006.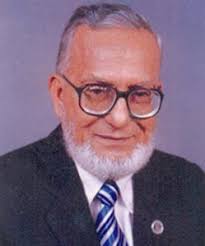 During his more than 50 years of uninterrupted search, he discovered a large number of algal taxa including genera (sing. genus) which are new to science. Because of outstanding contribution in the field of phycology, National Prof. A. K. M. Nurul Islam is regarded as the 'Father of Phycology in BD'.
By the end of British regime, a few people worked on algae in the Indian sub-continent, but no record of phycological research in the present Bangladesh part existed till
PK De in 1936 discovered the phenomenon of Nitrogen fixation in Blue Green Algae (collected from Faridpur), and
BC Kundu discovered Nitella tuberculata in the 1937 from Rajshahi.
Good to know:
The algal research so far done in Bangladesh may be discussed in the following heading:
Algal taxonomy
Best safe and secure cloud storage with password protection
Get Envato Elements, Prime Video, Hotstar and Netflix For Free
Best Money Earning Website 100$ Day
#1 Top ranking article submission website
A large number of algae have been discovered so far from Bangladesh.
Cyanophyceae: Rivularia varia Islam et Begum 1981.
In 1970 Islam and Begum first reported 250 species of phytoplankton from the East Pakistan. This report is the first for this country and it is the guideline for further research in Phycology, Limnology, Hydrobiology and wetland vegetation.
Rhodophyceae
In 1987, Islam and Aziz discovered Archrochaetium bengalicum form Swandip Island. In 2009, Aziz and S. Islam discovered Archrochetium nurulislamii from Bangladesh.
Chlorophyceae
From 1970 to 1999 Islam either alone or with his research associates discovered about 136 new species including one genus Kirchneriellasaccus lunatus.
Euglenophyceae
In 2000, Islam and Alfasane discovered Lepocindis caudata var. intermedia Islam et Alfasane. They also discovered 3 spp of Phacus, 7 spp. of Tracheomonas. In 2009, Khondkar et al discovered Strmbomonas islamii.
Chrysophyceae
In 1993, Islam discovered Isthonochlron garcile var dacchense.
Xanthophyceae
From 1965 to 1973, Islam discovered 6 spp. of Vaucheria.
Bacillariophyceae
In 1980, Islam and Aziz discovered Chaetoceros peruvianus var. recurva.
Cryptophyceae
In 1997, Islam and Khondker discovered Cryptomonas reglexa var. recurva.
Phaeophyceae
In 1976, 2 species of Fledmannia and 1 species of Giffardia was discovered by Islam.
New records for Indo-Pak subcontinent
Borodinella polytetras (a temporary algae, (Leningrad, USSR), from Dinajpur, Aziz and Tanbir 1998).
Euglenamorpha hegneri wenrich (a parasitic euglenoid from Dhaka, Khondker and Alfasane 2005)
Pteromonas aculeata Lemn. (from Barisal, Islam and Alfasane 2002).
Synurva uvella (a tempreate alga, from Gazipur, Aziz 2000).
Extensive research on the use of Blue Green Algae as biofertilizer (algalization) have been carried out by Begum and Aziz (2001). Considering difficulties in producing BGA, inocula and their subsequent viability in rice field, they have come to the conclusion that algalization is not a viable technology.
Dr. K M Sulanul Aziz described in 1974 a non-dialysable diarrhoea toxin from Microcystis aeruginosa, along with a dialyzable toxin. He was a pioneer for studies in the Vibrios in the environment and association of Vibrios with hydrophytic plants.
Algal cytology
Begum ZNT in 1977 discovered tubular elements a new organelle in cells of Calothrix marchica and also developed a mutant through gamma irradiation. Prof. Dr. Abdul Aziz in addition to reporting taxa new to science has also discovered phenomena new to sciences on the following areas of research.
Cyanobacterial metamorphogenesis
In 1977, Begum and Godward discovered the growth and development of new filaments (hormogonium) and differentiation of heterocysts in C. marchica.
In 1987, Aziz and Whitton showed differentiation of heterocysts in Gloeotrichia pisum. In 1989, Aziz et al and in 1993 Aziz discovered hair formation in Gloeotrichia.
Biochemical studies on Algal materials
In 1936, De from the soil of Faridpur, first reported the capability of BGA of fixing atmospheric nitrogen to soil.
In 1982, Begum first initiated the research on the effect of BGA in rice yield i.e. biological Nitrogen fixation through BGA.
In 1983, Aziz and Whitton studied on ecology of Nitrogen fixation.
In 1997, Begum first started cultural study and thus isolated more than 150 strains of BGA.
In 2002, Alfasane, Islam and Begum studied the Vibrio cholerae 01 and 0139 with phytoplankton in two ponds and one river at Bakerganj with the collaboration of ICDDR,B.
---
Ecology of Nitrogen fixation
Decline in nitrogen fixation in the afternoon in situ is not only due to decrease in light flux but some other factors like oxygen saturation that results inhibition of nitrogenous synthesis and function and optimum C:N ratio as indicated by decreased activity even under constant light flux.
Development of production system
Large scale Azolla production system in pond (1 ton ha-1 day-1) round the year in Bangladesh environment has been developed.
Bioindicator
Azolla fliliculoides, an aquatic fern can be used to measure arsenic in polluted groundwater cheaply and more precisely than the Merck Arsenic kit (Aziz 2001).
Pollution control
Bioremediation of Arsenic using Spirodela polyrhiza (duck weed) have been developed by Aziz (2003).
Patent
Process of large scale cultivation of Azolla for feeding fish and poultry and as indicator of Arsenic pollution in groundwater have been patented.
Nanofilter from local Algae
From Phys.org
The problem of access to safe drinking water in most parts of Bangladesh is a persistent challenge. Now, a team of scientists from Uppsala University, Sweden, and Dhaka University, Bangladesh, shows that a locally growing and previously unexploited green macroalgae species could be used to extract cellulose nanofibers, which can then be formed into paper sheets with tailored pore size that are utilized for point-of-use water treatment.
The paper filter has demonstrated excellent virus and bacteria removal capacity both in the lab and in real-life tests. The scientists believe that with further development, the paper filter produced from Pithophora algae, could be an affordable and efficient remedy to prevent numerous potentially deadly water-borne infections.
Excellent pathogen removal clearance for both water-borne bacteria and viruses with efficiency above 99.999 percent.
It can purify even the smallest virus particles of 27-28 nanometers.
Best safe and secure cloud storage with password protection
Get Envato Elements, Prime Video, Hotstar and Netflix For Free
Best Money Earning Website 100$ Day